Subscribe using an RSS feed reader or by email.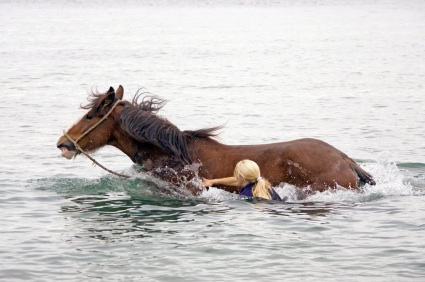 A New Yorker cartoon shows several mourners gathered around a casket. The caption: "He tried to change horses in mid-stream."
Changing creative directors can be like that. At the very least it's disquieting – current clients might become unglued, the work-in-progress load is always heavy, and how do you know the new CD will be a step up?
Nothing has the potential to change your agency more than changing your CD. Your internal culture will change, your product will change, your prospects will change, and perhaps even your clients will change. Strong creative directors affect the success and profitability of both your clients and your agency which is exactly what you want.
But should you change CDs? Yes, we say, if any of these conditions exist:
Your CD is stale. Many get musty after 5 – 7 years at the same place grinding on the same kind of accounts; 10 years of sterling work at one place is rare indeed. Maybe a CD's tenure should be measured in dog years.
Creative misses the mark. Not just once in a while but time after time. If your clients say your creative product isn't edgy enough, is too wooly, or you're swallowing lots of rewrite and re-design costs then perhaps it's time for a new creative mount.
You miss your share of new business wins. Nobody homers every swing but if you keep striking out, maybe the creative product is flat. The cliche still applies: good account service keeps an account but great creative wins it.
Your CD's a prima donna. The big clue here is consistent disregard for others' feelings, input, or wants. A pigheaded CD can be destructive to the whole agency culture. Watch out for pronoun-itis ("my ad," "mycreative idea," "my account"). If a CD runs Creative like a personal kingdom or rides roughshod over complementary departments like Account Service, you've got an agency seriously out of balance. Deal-breaker: "I don't care what the client wants!"
Look, there are too many good people out there (and life's too short) to be held hostage by a jerk. If you've got a problem in Creative, fix it. Some suggestions:
> There's nothing wrong or immoral about rustling good talent from your competition – sports teams and big corporations do it all the time. Who's the best nearby and what would it take to get them to join your team?
> If you run ads in the trades or do a web search, remember you'll likely be hiring the unemployed or disgruntled. Relying on serendipity is a poor way to build a championship agency.
> Headhunters make sense at this level – they'll weed out pedestrian candidates and job-hoppers and the best searchers present only good potential matches. A search firm should help you avoid hiring a misfit.
What's a good CD worth? If you haven't hired one in a while prepare for sticker shock, but remember the good ones get paid well because they have enormous impact on agency profitability. You want a CD who's doing well where he or she is now so they'll do equally well at your place. Hey, you tell your clients you're
worth your fees because you do great work – a good CD will help you deliver on that promise.
Yes, making a change at the top of your Creative Department is a big decision. Get it wrong and you throw your agency into a tailspin, but get it right and it's like stepping on an escalator going up.
Fact is there's never a "good" time to change creative horses…because we're always midstream in this business. But the good news is unlike that New Yorker cartoon, only rarely does anyone die when you switch out a CD.
————————————————————————-
P.S. We provide confidential and seasoned counsel to agency principals on a variety of management matters including highly sensitive issues like stalled partnerships and ineffective executives. Get in touch to find out more at joe@joegrantconsulting.com.
Subscribe using an RSS feed reader or by email.